Gabriel Thelus, Haiti Community of St. Rose Leader, is a native of Jacsonville, Haiti. His father's dream was to create educational and job opportunities in their poor village. As a result, Gabriel worked very hard to complete high school and learn English. His determination was recognized by Brother Cosmas Rubencamp, a Catholic Xaverian brother long involved in Haiti. Gabriel was given a scholarship to attend Virginia Tech, and he graduated in 1994 with an Associate's Degree in Plant Agriculture.He worked very hard in his classes and even made the Dean's List during all semesters. After graduating, Gabriel returned to Haiti to live out his father's dream of creating opportunity for his fellow countrymen. He opened the first elementary school in the area, St. Rose de Lima School. He also started a carpentry and welding apprenticeship program to teach skills to local men. He began a market and a sugar cane mill. Gabriel also works tirelessly to provide jobs and houses to the people of Jacsonville and surrounding villages. He receives many visitors from the United States in the Mission House built in the community in 2009. Gabriel is married to his wife, Maricile, and they have three children: Ti-Gaby, Garel, and Dominica.
Ketheline Rock Dantil, St. Rose School Nurse, is originally from the town of Pignon in the Central Plateau of Haiti. She received her nursing degree from Centre Haitian Etudes Supérieures en Sciences de la Santé in Port au Prince in 2008. She received additional training in pediatric diseases, vaccination, nutrition, and de-worming at the Grace Ministries in Port au Prince. She is currently working as a nurse for the Catholic diocese of Pignon in a small clinic helping local people to receive desperately needed primary care. She lives with her husband, Moussanto, a local veterinarian, and their son in the village of Jacsonville. She noted the need for medical care and instruction in basic sanitation habits amongst the local children. Thus, Ketheline currently volunteers one day during the week at St. Rose de Lima School to work with children who are ill. She is interested in continuing to expand her involvement with the children of St. Rose and is committed to increasing the amount of public health education in the school curriculum.
Barbara Weis, MD, MPH & TM, Executive Director, has a long-standing interest in Global Health. She received a BA in French and German Comparative Literature from Yale University, then served in the US Peace Corps in Togo, West Africa, as the regional coordinator for a project designed to impact the transmission of water-borne diseases by drilling wells and creating health committees in the chosen villages. After her two years in the Peace Corps, she completed her MD and her Masters in Public Health and Tropical Medicine at Tulane, then her residency at Montefiore Hospital in the Bronx, in Social Pediatrics. She has been an attending in the outpatient department of Sinai Hospital of Baltimore since 1990, where she is the Medical Director of the Pediatric HIV program, coordinator of the Advocacy Rotation, and the School Health rotation, as well as co-director of the new Global Health Elective. She has been involved with Sante Total since July, 2010, recently completing her fifth trip to Jacsonville, and is particularly excited to be returning to International Health, and the opportunity to train medical students and residents in Global Health issues.
Alison A. Smith, MD, PhD, Board Member, daughter of Dr. James and Paula Smith, was one of the founding board members and the inaugural Executive Director of Sante Total. She has been involved in clinical work in Haiti since 2007 and has led over 20 medical relief teams to the Central Plateau patients since 2009. She was also involved in the first wave of medical relief efforts at the General Hospital in Port au Prince following the 7.0 magnitude earthquake in January 2010. Her relief work was recognized with daily blog postings on MTV News and a published article in The New Physician. Smith graduated with highest honors from Oakland Catholic High School in Pittsburgh, Pennsylvania in 2003 and she also received the St. Joan of Arc Medallion for Service. Smith graduated summa cum laude from Virginia Tech in 2007 with dual Bachelor of Science degrees in Biological Sciences and Chemistry. She received many top awards at Virginia Tech and received local and national recognition for her leadership efforts at Virginia Tech following the shootings in April 2007. Smith has numerous international experiences, including volunteer work in Australia, Honduras, Laos, Cambodia, Kenya, Burma, Nepal, and Mexico. Smith also completed two USDA-funded research projects in Mali and Ecuador. She has organized three medical trips to the Dominican Republic to treat over 2,000 Haitian refugees while part of the non-profit organization, Project Esperanza. Smith received the Pfizer Resident Volunteer Award from the American College of Surgeons in 2019. She completed a General Surgery Residency at Tulane University in 2019 and Surgical Critical Care/Trauma fellowship in 2020 at University of Texas San Antonio. She is an Assistant Clinical Professor of Surgery at Louisiana State University in New Orleans.
E. Alton Sartor, MD, MBA, Board Member, Director of Finances, completed his MD and MBA at Tulane University, Residency in Neurology at Columbia/New York Presbyterian, and Fellowship in Neuro-Oncology at Massachusetts General Hospital/Dana Farber in Boston. He is actively working as Director for Neuro-Oncology at Boston Medical Center. He is an Assistant Professor of Medicine and Neurology at Boston University. Dr. Sartor has been involved with Sante Total since December 2010 and currently manages the 501(c)3 non-profit status of Sante Total.
Carl "Carlos" Mickman, MD, Board Member, is an emergency medicine doctor originally from Minneapolis, MN now based out of New York City. He attended medical school at LSU and residency and ultrasound fellowship at Mount Sinai Hospital. He became involved with Sante Total as a medical student in 2011 and has participated in nine medical trips as well leading several public health projects in the community. Along with his work with Sante Total, he also works with many international organizations as an ultrasound instructor and has taught in Haiti, Mozambique, Rwanda and the Democratic Republic of Congo.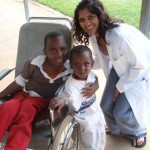 Devi Yalamanchili, MD, Board Member, Research/Grant Development Chair, is currently an Internal Medicine and Pediatrics hospitalist attending with University of South Florida in Tampa, FL. She received her B.A. from Mount Holyoke College in a self-designed major: Biological and Cultural Approaches to Medicine. She went to medical school at Louisiana State University Health Sciences Center – New Orleans. Dr. Yalamanchili completed a combined Internal medicine and Pediatrics residency at University of South Florida College of Medicine in order to continue to pursue her passion for global health. She has been involved in international service projects since 2004 in several countries with a focus on sustainability including Haiti, India, Rwanda, Colombia, and Bangladesh. Dr. Yalamanchili has been a medical volunteer with Sante Total since 2010 while she was in medical school and is excited to be a part of the future endeavors to optimize the medical services for this community.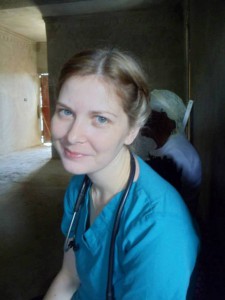 Violet Yeager, MSPH, Board Member, has graduated from the Tulane University School of Public Health and Tropical Medicine with an MSPH in Tropical Medicine and is currently a DO candidate enrolled in the William Carey College of Osteopathic Medicine. She is passionate about disaster response and international medical service and has worked in Thailand, Vietnam, West Africa, and Mexico. Her prior work experience in logistical operations and with the American Red Cross allows her to contribute significantly to the Sante Total team. Violet is enthusiastic in forwarding the mission of Sante Total and has been a volunteer with the organization since 2013.
Serena Murphy, MD, Board Member is Captain in the US Air Force and currently a General Surgery resident at the University of Vermont Medical Center. She attended medical school at LSU medical school in New Orleans. It was during her first years of medical school that she became involved with Sante Total and has since made six trips to Jacsonville. She has been involved in public health in Jasonville, including studying the helminth prevalence in the pediatric population (low!) in the area. Serena is excited to continue her involvement in Sante Total and to be a part of the strengthening and growth of Jacsonville's community.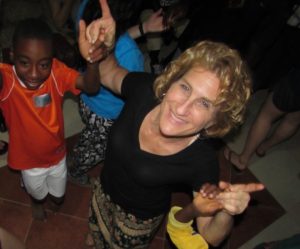 Temrah Okonski, Board Member, is a senior physical therapist for PACT: Helping Children with Special Needs, childcare center and Kennedy Krieger Outpatient Pediatric Services, both in Baltimore, MD. She also owns her own business, GOTMOJO and treats adults with orthopedic injuries. Temrah received her Bachelors of Science degree from Simmons College in 1988 and held post graduate fellowship positions at Hermann Hospital, TX and Georgetown University, DC. She was the pediatric physical therapist for the US Airforce Base, Misawa, Japan from 1994 to 1997. While in Japan she volunteered at the local Japanese hospital. Temrah has an international patent pending for a weighted foot brace. She has published material related to child development, physical therapy treatment, and physical therapy educational models. Temrah happily joined Sante Total in 2012 after researching many out of US medical missions. She became a Sante Total board member in 2015. Her other interests include her two young adult children, husband of 27 years, and her love for exercise and sprint triathlon competitions. She spends all of her free time on Rotary related service work and is currently a Rotary club president, transitioning into Assistant Rotary Governor for Howard County, MD.
Julia Clemens, Board Member, Webmaster, graduated from Wesleyan University in 2016, where she received a BA in French Studies and Biology. She is from Baltimore, MD, and she is a medical student at the University of Vermont class of 2022. Before medical school she worked for two years as a research coordinator at Johns Hopkins Hospital. She is interested in international medicine and public health. Julia started volunteering with Sante Total in 2013, and has been on seven trips so far as a non-medical volunteer, and additionally runs the organization's website.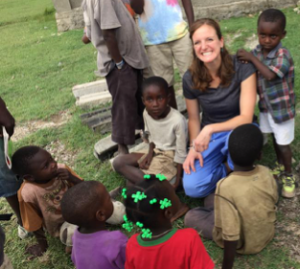 Margarite Matossian, MD, PhD, Board Member, Student/Trip Coordinator, completed her MD and PhD at Tulane University School of Medicine in New Orleans. She is currently an internal medicine resident at the University of Chicago, in the physician scientist track with a fellowship in oncology. She is originally from Ann Arbor, Michigan and received her BA in Biochemistry at Kalamazoo College where she was recognized for building Women in Science programs at local schools. Her PhD work was to characterize new targets for breast cancer metastasis and develop innovative translational model systems for aggressive breast cancers. Margarite is passionate about advocating for underrepresented patients in breast cancer research and raising awareness for local breast cancer research efforts with the cancer survivor communities. At Tulane, she was involved with various committees to connect medical students with research opportunities. Margarite has been with Sante Total since 2015 when she started attending trips as a medical student. Since then she has returned for multiple other rotations in our Haiti clinic and she has a role in coordinating the medical trips to Jacsonville and recruiting students from the medical, public health and other fields to participate in the trips.
Sergei Robinson, MD, Board Member, completed medical school at Lecom in PA and did his internal medicine residency at Wright State University in Ohio. He is currently an internist and a flight surgeon for the USAF. Sergei has been to Haiti multiple times since 2010. Initially he went to assist with water filtration and orphanage work. During officer training he met Serena Murphy who encouraged him to look into Sante Total. Sergei has since been on several trips to Jacsonville and is always eager to come back!
Christina Stiles, Board Member, Social Media, graduated from Bates College in 2015, where she majored in Biological Chemistry and Mathematics. After graduation she worked for a year and a half as the Clinical Research Coordinator in the Burn Unit at MedStar Washington Hospital Center. Christina then worked in Uganda for a year coordinating a community health worker program. She started volunteering with Sante Total in 2010 and has been on thirteen trips in total. In Fall 2018 she started medical school at the University of Chicago Pritzker School of Medicine where she hopes to continue learning about global health.
Eric Delss, Board Member, earned degrees in architecture and urban design from Virginia Tech and Harvard University. Recently, he completed studies in land preservation and conservation planning from the University of Pennsylvania. Eric first visited Haiti as a student at Virginia Tech in 1998, where he met Gabriel Thelus and saw the foundations of what was to become the St. Rose de Lima School. For over twenty years, Eric has worked closely with Gabriel, his wife Erinn, and parents Charles and Carol Delss to grow a strong connection between Jacsonville and sponsoring communities in Maryland and Pennsylvania. As the son of a teacher and the husband of a teacher, he recognizes that the power for social change and improved community health rests in guaranteeing access to quality education. Eric is excited to contribute to the efforts of Sante Total and to continue this important and necessary work. Eric lives in Pennsylvania with his wife and two sons.